Carolina Train Builders Free Model of the Month for March 2002 is the CTB-1123 Refrigerator Car.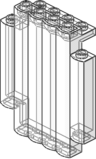 CTB-1123 is the fourth FMOTM. This model is fairly simple, a short Refrigerator Car that utlizes white 2x5x6 log wall panels to create a different look.
Instructions are available for download free of charge.